Harold Cain stood on the fringes of a slender sweep of grass in Washington Park, counting the minutes until the 30-foot Christmas tree in front of him would gleam with the hundreds of icicle lights woven around its branches.
At 63 years old, the lifelong resident of the Washington Park neighborhood had never been to a tree-lighting ceremony, he said. He was not aware of any taking place nearby — until this year. Last Sunday evening, Cain was among at least a hundred people who flocked to a road median on West Garfield Boulevard and South King Drive to celebrate the neighborhood's first tree-lighting ceremony in recent memory.
"It would have played a big part on a lot of people, because Christmas only comes once a year," Cain said in reference to not having a neighborhood Christmas tree while growing up. "This here? This will make up for some of it."
Attendees gather during a tree-lighting ceremony in the Washington Park neighborhood on Dec. 6, 2020, in Chicago. (Armando L. Sanchez / Chicago Tribune)
The ceremony was hosted to shine a bright spot in a year marked by the coronavirus pandemic and social upheaval throughout the country, but it also represented the evolution of a neighborhood that has banded together through ups and downs, resident and Washington Park Chamber of Commerce CEO Donna Hampton-Smith said.
She described the tree as a love letter to children of the South Side after decades of government disinvestment led to overgrown vacant lots and storefronts buttressed by bulletproof glass. Her neighbors deserved the same level of holiday cheer as downtown, where Millennium Park has had a tree-lighting ceremony for over a century, she said.
"When children see Christmas trees and Christmas decorations in their community, they feel that they matter," Hampton-Smith, said. "They begin to feel that they are treated equally and there's no discrimination. There's no separation."
Last year, Hampton-Smith spearheaded planting a smaller tree in the same location, but it was mysteriously mowed down before the lighting ceremony could begin. Nevertheless, she wasn't fazed, and her organization mobilized to erect a tree nearly four times as tall this year.
Four years ago, residents in the community of Washington Park wondered whether they were on the brink of an economic revival. Then-President Barack Obama was mulling where on the South Side to deliver his upcoming library and museum, and the historic but wanting Washington Park was a top contender.
Some residents argued their neighborhood and its swaths of empty land had potential beyond just being the physical site of the nation's first Black president's legacy — it would be an engine to rejuvenate a South Side community that was part of the story of Chicago's Black Belt, where a wave of Black people migrated from the South to start anew in the 20th century.
But it was not meant to be. Obama announced later in 2016 that the center would be in Jackson Park near Woodlawn, and residents such as Hampton-Smith were crestfallen. Just years ago, the area had been passed over as a potential site for the 2016 Summer Olympics.
"I was upset, to be honest, and I was upset because we worked so hard," Hampton-Smith said about the presidential center location. "We got the word out … so it was definitely a switcheroo."
Hampton-Smith still believes the center's proximity will lead to an influx of businesses and residents in Washington Park, but she will be working to ensure the Obama Foundation keeps "a pulse on the community" when it comes to promoting jobs.
Donna Hampton-Smith, president of the Washington Park Chamber of Commerce, speaks with attendees during a Christmas tree-lighting ceremony in Washington Park on Dec. 6, 2020. (Armando L. Sanchez / Chicago Tribune)
With or without high-profile prospects such as a presidential center or the Olympics, Washington Park residents are taking matters into their own hands when it comes to beautifying their neighborhood, they say. And it starts small.
The playground on Washington Park resident Mary Sillah's block on East 58th Street and South Indiana Avenue was chained up because of safety issues, she said. It was a structure her three children had dashed around when they were young, but over the years the grass had grown wild, threatened to overtake the structure. Gang signs and slogans were spray-painted on the sidewalk leading up to a purple slide brimming with leaves and dirt.
But in the spring Sillah helped resurrect the Washington Park Neighborhood Watch Group, which she now co-chairs. After the organization collaborated with the chamber of commerce to receive a grant from the South East Chicago Commission, volunteers spruced up the lot in September, offering families a spot to safely gather after being cooped up for months during the pandemic.
The group of about 60 other residents also plans community events such as a Halloween candy giveaway. It attends community policing meetings and organizes regular walks together to report disrepair to the city.
"When you speak of government, I think governments think in terms of numbers and statistics, dollars. How much money is being spent," Sillah said. "When you speak of community, it's more personal. You get to know your neighbors. You have concern for your neighbors. … We can't replace community involvement."
Across the South Side, residents are leading similar projects to fight government disinvestment with a hyperlocal focus. The community group My Block My Hood My City mobilized in 2018 to string up twinkling Christmas lights along the houses and gates of South King Drive, sparking a tradition that this year stretches between 35th and 115th streets.
"How would you feel if your whole worldview was neglection and negativity?" said Ernesto Gonzalez, marketing manager of My Block My Hood My City. "You'd be traumatized if in Lincoln Park, you had to scream over 3-inch glass to order your coffee. … It's not what living is about. But if you start changing the little things, bit by bit the youth will see it and they will adapt to it in a positive way."
Siblings Johnathan Williams, 14, from left, Javarius Williams, 15, Jordan Crowder, 1, and Jaelen Williams, 12, look at lights and decorations during a Christmas tree-lighting ceremony in Washington Park on Dec. 6, 2020. (Armando L. Sanchez / Chicago Tribune)
Young children huddled near the front of the crowd during Sunday's tree-lighting ceremony, most of them quietly absorbing their surroundings as adults chanted, "Three, two, one," before turning on the switch. Golden light splashed their faces, and there was a split-second pause before cheers and singing ripped through the air.
Standing a few feet from the base of the tree, 1-year-old Jordan Crowder craned his neck back as far as it would go to see how high the red and silver baubles reached.
"I feel good that they decorated the area," his brother, 14-year-old Johnathan Williams said. "We need more holiday decorations, and we need more love like downtown."
02
Isolated by pandemic, Americans are sending more Christmas and holiday cards to stay in touch
© Provided by NBC News
Ever since she was a child, Courtney Young loved signing and sending Christmas cards to family and friends. But as she got older and time became more precious, the number of cards she mailed each December dwindled. And last Christmas, Young said she mailed just 20 cards.
Then the pandemic hit.
"I expect to send out 150 to 200 cards this year, if not more," Young, who is the head librarian at Colgate University in upstate New York, told NBC News. "I enjoy doing it. Actually, I've always enjoyed doing it. So I guess I am getting back to something that I used to do."
She apparently has plenty of company.
"Our holiday sales are off to a strong start, further indicating the importance of meaningful connections in this unique year," Lindsey Roy, chief marketing officer at Hallmark Cards, said in an email. "We're seeing growth in our ornaments and gifts businesses so far, as well as early indicators that more people are buying and sending holiday cards this year."
Their biggest selling card this season, she said, is a Christmas card that expresses a sentiment that millions of Americans cut off from the people they love can relate to, namely "wish we were together."
"The cover says, 'It would be so nice to wish you a Merry Christmas in person'," Roy said. "And the inside reads, 'But even though I can't, just know that I'm thinking of you – now and all through the year'."
Young said Hallmark is speaking her language.
"I feel that in the moment, it's even more important to send something out to people, if only just to let them know that they are missed and appreciated," she said. "I do tend to send out holiday cards, but this year I've been expanding it to people I work with, people I would run into at conferences, extending it beyond the usual group of people I send cards to."
Young said even before the holidays, she surprised herself, as well as her friends, by sending actual birthday cards rather than simply calling or texting. She said it helped her ward off the feeling of isolation during the coronavirus crisis.
"It feels good to be able to do something good for other people, especially at this moment," she said. "I think we need to be more purposeful about reaching out even as we are isolating. We don't have these serendipitous moments when we can run into each other right now because of the pandemic."
Emily Stern and Bob Bailey-Lemansky, who live in the Montclair, New Jersey area, have in seasons past sent holiday cards they designed themselves to friends and loved ones. But this year, the 75 or so cards they mail will have a design that Stern drew.
"This year has certainly been unusual, and we all hear about what a horror show 2020 has been," Stern said in an email. "Our intention instead was to convey wishes of peace and hope for the holidays and year ahead, include winter and seasonal themes (as well as elements that reflect our year), and go the heartfelt route. At the same time, we felt it important to acknowledge the loss and impact caused by the pandemic."
So, she drew a Picasso-inspired bird of peace and added the word "Hanukkah" in Hebrew, which she started studying this year. And with the help of Bailey-Lemansky, who is a part-time musician, she added the notes from the first line of the song "Richie and Ruben" by Fountains of Wayne.
© Emily Stern Emily says the goal for her drawn holiday card was to emphasize heart, hope, and humanity which are very much alive, even though those messages haven't been the loudest ones voiced this year. (Emily Stern)
"Among other painful losses, losing Adam Schlesinger hit us especially hard," Stern said, referring to the band's bass player and chief songwriter who died of Covid-19 earlier this year. He was 52.
As for "Richie and Ruben," Stern said, "It has special meaning for us because it's one of 'our' songs."
Megan Carolan is also mailing out custom holidays cards this year, or rather she's mailing out Christmas cards customized with drawings of trucks by her 3-year-old son.
© Courtesy Megan Carolan Image: 3-year-old Christmas card (Courtesy Megan Carolan)
"I got the idea to make the cards with my son after I unpacked my Christmas stuff and realized I had all these boxes of cards that I had barely used," said Carolan, who lives in Jersey City, New Jersey, and is expecting her second child in the spring. "It was partly an attempt at decluttering."
Carolan said she has a big family and "all of us getting together this year is just not an option because of the pandemic."
"My son is now old enough to be aware of what he is missing and decorating the cards is something we can do from home that still feels festive," she said. "It's also an activity that enables him to practice drawing and writing. So, in a way, it's part of our virtual preschool. He gets to draw and color and personalize these cards. And who doesn't want a customized Christmas card from a three-year-old?"
Carolan said they intend to mail out about 25 cards.
"I have been talking to some of the parents about how some of the old-school ways have come back because of the pandemic," she said. "In a year when you have to celebrate Thanksgiving on Zoom, I think people appreciate getting an actual Christmas card. It's a physical thing, a tangible thing."
03
Cutting your own Christmas tree is good for the forest. Here's why.
It's a Sunday morning and I'm driving by the river and through the woods to chop down my very own Christmas tree. It is a blue sky day, sunny and crisp. The pandemic is raging, but in this moment, I'm intentionally not checking the news or Twitter. "A Charlie Brown Christmas" is playing on the stereo. My husband and I are wrapped in layers of red flannel, cable knit sweaters and puffy jackets. The Santa hat on my dog's head is barely hanging on.
We are channeling our pandemic angst into Christmas spirit and heading into the woods, where social distancing is easy, to cut down our own tree.
I've never cut down my own Christmas tree before, but this year, when the Forest Service released its permits to chop-it-yourself, I figured, why not? It's actually good for the environment. Last year, we spent $100 on our tree and it barely stayed alive until Christmas morning. The Christmas tree permit cost $10 and I figured it'd be DIY, locally grown, wild and fresh. Not only that, but cutting down your own Christmas tree is a way to support the causes of wildfire prevention and healthy forests.
One of the reasons why I've never cut down my own tree is a subconscious one. Since I was a small child, I have known that we are Not Supposed To Cut Down Trees. That's like suffocating the earth's lungs! Rainforests from the Amazon to the Tongass are threatened by clear-cut logging and wildfires. Trees capture carbon from the atmosphere, and if enough trees are planted, they will save us from climate change. Planting a tree, after all, is synonymous with Earth Day. So why would I chop down a tree a few months earlier for Christmas?
But then, I was walking through the woods with a group of foresters and botanists who are running a legacy program on Tahoe's West Shore to prescribe fire in state parks. I learned that many forests in the Sierra Nevada are overgrown with small trees — the same ones that we like to put in our living rooms for the holidays. Those small trees not only pose a significant risk for wildfire, but they also create an ecological problem that's impacting the health of the forest.
Smaller, younger trees create competition for the larger, older trees in a forest. And the giants are valuable. They are centuries old — an age that's incredibly rare in Tahoe. In the mid-1800s, almost the entire Tahoe Basin was clear-cut. Not only are these big, old growth trees important alive, but they also create important habitat when they die. Large, dead snags are refuges for many creatures and birds.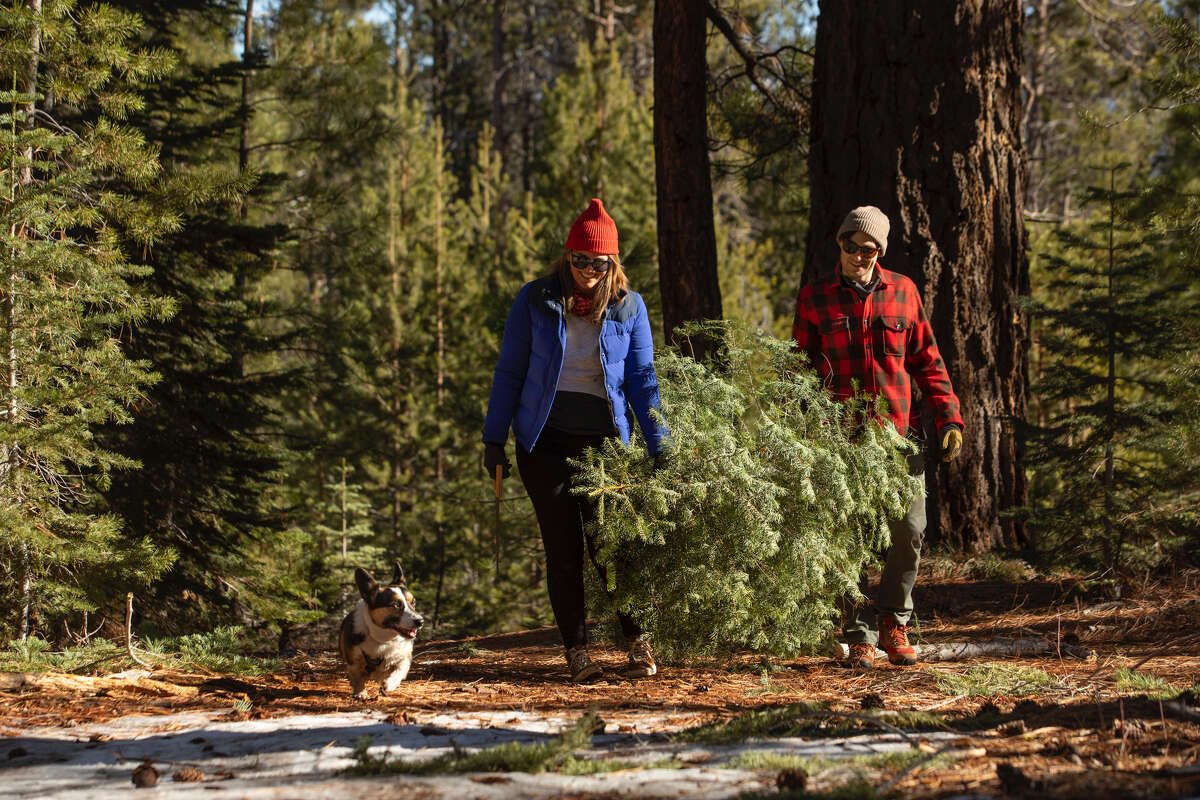 A family searches for a Christmas tree.Ryan Salm/Special to SFGATE
In Tahoe's forests, the larger trees are fewer in number than they were historically, in particular sugar, Jeffrey, ponderosa and whitebark pines. Those trees need sunlight to regenerate, which is hard to come by in a forest canopy as dense and overgrown as Tahoe's is now. Small, younger firs, however, proliferate in the shade. And when they grow near those bigger trees, they make it harder for the more valuable and older trees to survive disease or drought, and also wildfire.
These small trees are ladder fuels. In a wildfire, they are responsible for carrying ground fire up and up to higher branches in the forest, and eventually the fire climbs to the crown. When a wildfire becomes a crown fire, it often accelerates, becomes more intense and harder to contain. As I followed the foresters through a plot of land that has recently seen a prescribed fire, they told me that one of the first steps to prepare is to gather the undergrowth and cut down small trees. Often, the woody debris will be assembled into piles and left to cure, or dry out, so that they'll burn more efficiently when crews return later.
So, the small firs must go. And that's why I'm here with a saw in my hand, searching for the perfect fir to be my Christmas tree.
Firs make great Christmas trees. They have a natural cross-section at the top that looks like a star. Their boughs are widely spaced for ornaments to hang. The silvery bark is smooth. When I was a kid, my family always preferred the "fuller" looking trees, and we'd usually buy one in the parking lot of a Save Mart or Safeway. In more recent years, overcome by a spur-of-the-moment Christmas spirit, I've made a quick turn into a dirt lot near a busy intersection and picked one out from the rows. For most of the year, these lots are usually bare strips of dirt that I hardly give a second thought to, but for a few weeks in December, with some hand-painted signs, lights strung, and a cashier in a trailer, they sell Christmas spirit.
In 2019, Americans purchased 26.2 million Christmas trees, according to the National Christmas Tree Association. The median price was $76.87, a figure that's climbed because farmers are planting fewer seedlings. Christmas trees take about 7 to 10 years to grow, on average. In the 2017 Census of Agriculture, there were almost 300,000 acres in production for growing Christmas trees. Deep down, walking through those dirt lots and buying a tree at a busy intersection did feel somewhat superficial — especially when I live in the Sierra Nevada and there are gazillions of trees growing in the forest.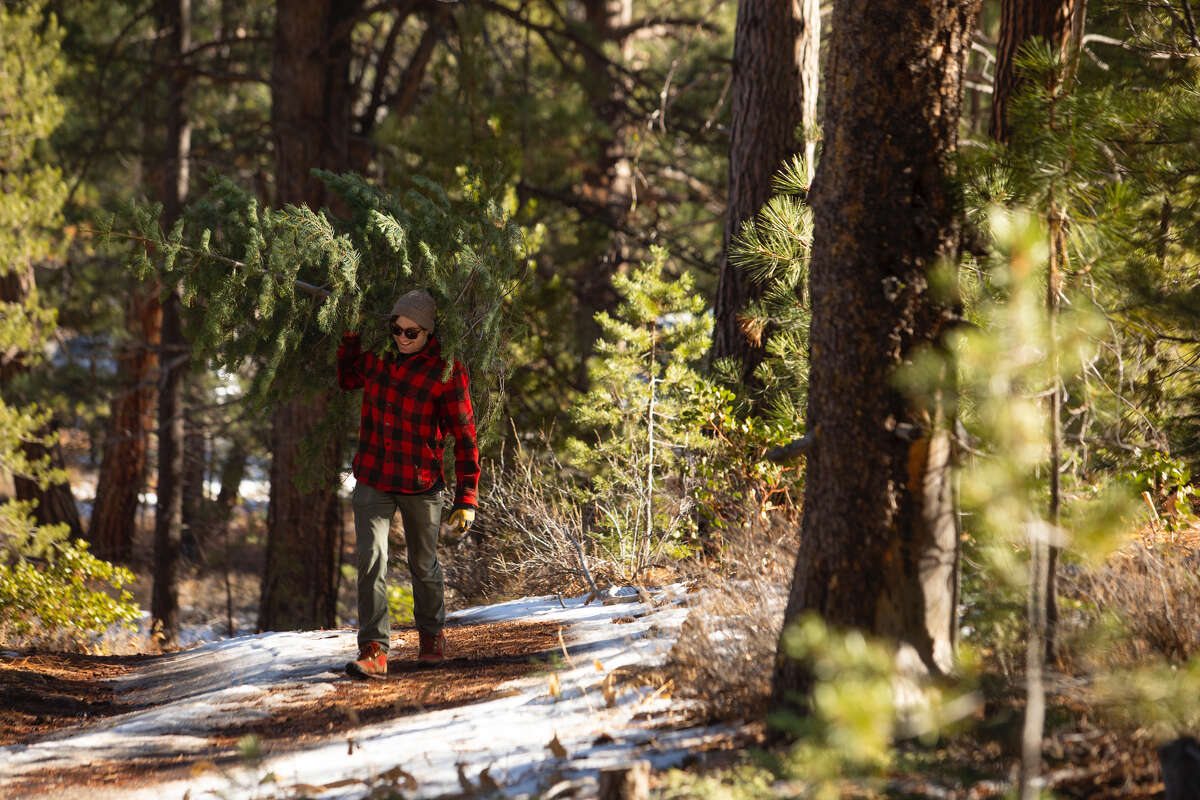 A family searches for a Christmas tree.Ryan Salm/Special to SFGATE
So I bought my permit from the Forest Service, and, this is important, because it is illegal to chop down a tree without a permit. I purchased my permit for the Tahoe National Forest, but other forests in the Sierra sell them, too. It cost $10 per tree plus a processing fee, and I bought two permits so my sister and her family could have one, too. When you buy the permit, the Forest Service also gives you a map and instructions. There are specific areas that Forest Service designates for tree cutting.
We pull off the road and park in a muddy lot. If I had put my snow tires on my car by now, we probably would have driven a bit further on the Forest Service road. But it is nice out and a walk feels good. It hasn't snowed in a while, so the scene is a far cry from the winter wonderland I'd hoped for. Instead, I'm tromping through mud and slipping on blue ice. My husband packed our tools: tarp. Saw. Gloves. Measuring tape.
The measuring tape is essential. The Forest Service has maximum dimensions to steer you toward the trees that need cutting — the trunk must be smaller than a 6-inch diameter. Trees also look smaller in the forest than they do in your living room. The Forest Service recommends measuring the space inside your house before you head out, so you know you're getting the right tree. We eyeballed it, but we should have followed the Forest Service's advice. Our tree is much bigger than we thought it would be. Still fits though!
Eventually, we meander off the beaten road and onto a path less traveled that took us to a shady grove.
Honestly, it's harder to pick a Christmas tree in a forest than in a parking lot. Every tree looks a little bit better than the next. I see one gorgeous fir and think, "There's probably an even better one around the corner." This one is too stubby. This one is too leggy. Now I'm getting too picky. It's a tree that will soon be covered in ornaments and lights. But it matters, especially in this moment.
We could have kept walking, but then we stumble on a giant meadow. Across the way are a dozen more trees. But between us and them is a muddy marsh and a creek winding beneath dead grass. My dog, named Squirrel, hops ahead of us, grinning and barking, and when he runs back he is absolutely covered in mud. I will not be happy if I take one step further. We turn around and make our decision.
"What about this one over here?" my husband says.
The sun is shining on a small tree. Grass is tangled in its lowest scraggly branches. It's growing beneath two larger trees, and we want to help them get rid of a bit of competition. This one had symmetry, the right spacing between branches. It could have been the one. It almost was.
But then, at the last second, another tree calls out to me. It's in the shade and I see it from the corner of my eye. A little bit fuller. A little bit taller. Nestled in a cluster of larger neighbors. It's our tree.
I kneel down first and started pushing the saw through the bottom of the skinny trunk. Note to self: Bring a sharp tension saw. The rusty hand saw that's been sitting in the garage forever isn't exactly the best tool for the job. My husband takes over and not before long, the little tree comes tumbling down. He lifts it over his shoulder and carries it out of the woods. We strap the tree to the car, drive back down the hill, past the river, all the way home.